Terminator star, Arnold Schwarzenegger, has undergone emergency open-heart surgery, according to US reports.
The 70-year-old underwent the medical procedure on Thursday, according to TMZ.
Schwarzenegger was scheduled to have a catheter valve replacement and developed complications, US reports say.
The procedure usually means the patient can avoid having open-heart surgery.
Doctors at Cedars-Sinai hospital in LA reportedly decided an emergency open-heart operation was needed and Schwarzenegger was in theatre for several hours.
His spokesman said the star made the jokey remark in a twist to his well-known "I'll be back" catchphrase after waking up from the operation.
Daniel Ketchell said Schwarzenegger "is awake and his first words were actually 'I'm back".
Schwarzenegger had heart surgery to replace a valve that was originally replaced 20 years ago.
Ketchell said the original replacement pulmonic valve had outlasted its life expectancy.
So the former California governor chose to have a less-invasive catheter valve replacement procedure.
Earlier this week, Schwarzenegger seemed in good health when he spoke to CNN about changes in the Republican party. The former politician has been critical of Donald Trump's presidential administration.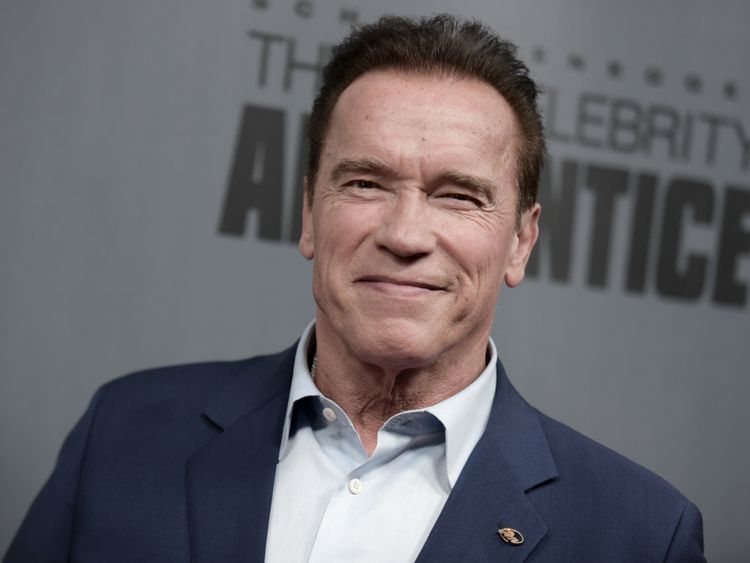 Image:Schwarzenegger has undergone heart surgery
The action star is due to reprise his previous roles as robot killer The Terminator and Conan the Barbarian over the next two years.
In 1997, the Austrian-born former bodybuilder underwent heart surgery to replace a valve.
He said the operation was due to a condition which was congenital and nothing to do with steroids.
He revealed in his book "Total Recall: My Unbelievably True Life Story" that he initially kept that first operation a secret from his wife, Maria Shriver, by telling her he was on holiday in Mexico.
The actor was voted in as governor of California in a historic 2003 recall vote - but proved the win was no fluke by defeating opponent Phil Angelides to get re-elected.