A brush fire in Laguna Beach and Aliso Viejo forced mandatory evacuations of 2,145 homes and quickly grew to more than 250 acres on Saturday afternoon.
The fire was first reported shortly after 1 p.m., and the wind-driven blaze, initially dubbed the Aliso Fire, quickly grew from an original half-acre. It burned in the Aliso Woods Canyon behind Soka University per the Orange County Fire Authority said.
The blaze encompassed parts of both Laguna Beach and Aliso Viejo and forced evacuations in both communities.
The rapid growth of the first was best illustrated by when it more than doubled from 70 acres at approximately 4 p.m. to 150 acres at approximately 5 p.m. with zero percent containment per the Laguna Beach PD.
Aliso Viejo and Laguna Beach Fire in Orange County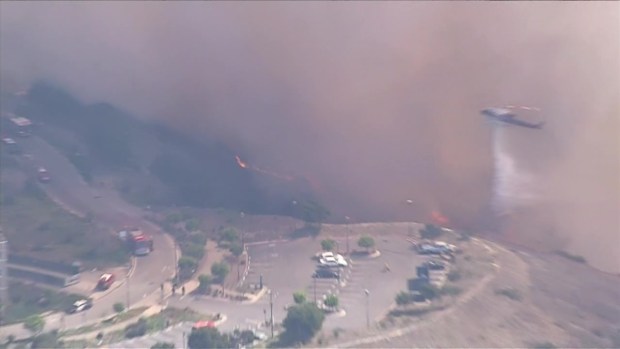 A fire on Saturday afternoon in Aliso Viejo resulted in over 200 firefighters called on scene and evacuations. Newschopper4 Bravo was overhead.
At 5:30 p.m. the fire had burned 200 acres, and the Orange County Fire Authority updated that the fire had grown to more than 250 acred at approximately 6:30 p.m.
Residents in the Top of the World neighborhood all the way to Alta Laguna Park in Laguna Beach were being evacuated as more than 400 firefighters were on scene. "Multiple" fire engines were on the scene to protect structures as smoke and ash filled the air, the OCFA said.
The Susi Q center in Laguna Beach has been set up as an evacuation center.
This is a developing story. Refresh this page for updates.