She continues to be one of the most popular ex-housemates. From modelling gigs, to hosting shows and even TV stints, Alex is showing now signs of slowing down.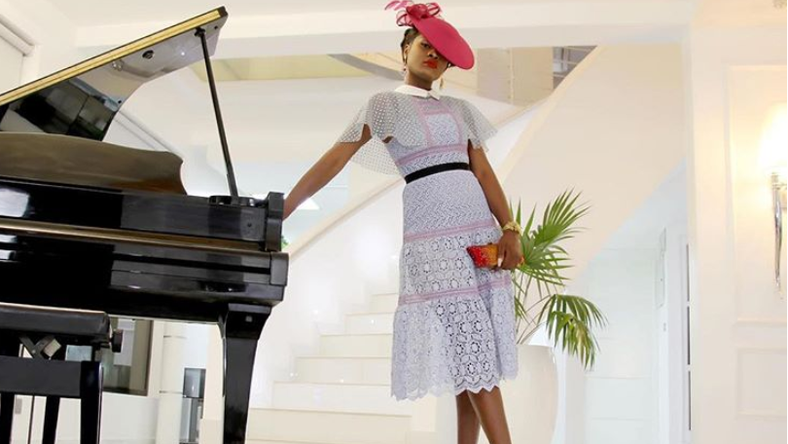 BBNaija's Alex looks every inch the lady in a lavender Self Portrait dress
The BBNaija star was known for her outlandish style, penchant for bright hair and even larger than life personality but it seems, in the last year Alex has done some growing up. The beautiful reality TV star was spotted looking every inc the lady in a lavender Self Portrait lace dress.
Alex paired the back with a chic fuchsia fascinator which sat atop her head at a stylish tilt. She wore drop down gold and ruby earrings and a gold watch.
The dress, by Han Chong is the designer behind Self Portrait , a contemporary luxury label fitted Alex's impressive figure perfectly and skimmed along her subtle curves.
She finished off the look with a metallic pair of strappy sandals.
If you don't have anything nice to say, it's better to be quiet. 🤫
Debutante Alex Unusual. 1st of her name, one of a kind, her mother's daughter. Dress @mrselfportrait Stylist extraordinary @medlinboss Limited edition clutch @nucianobags Make up @annclemsbeauty 📸 @tamzee_boy
Styled by Mimi Yina, the shoot was inspired by English royalty an Alex could have certainly passed for one of the guests at the Royal Wedding early last year.
Today, We Are Going English. Off with Royal Vibe...👑 #Victorian Inspired Look 👀 By @medlinboss My Muse Alexandra The Great @alex_unusual Styled And Put Together By @medlinboss Outfit @mrselfportrait Clutch @nucianobags Makeup 💄 @annclemsbeauty Hair styled by @segungbabyface Creative Director @medlinboss Photography @tamzee_boy #Swipe For More ...🔥🔥🔥
Since leaving the house, Alex has worked with different stylists and experimented with various looks but we have to say, this is our favourite to date. Elegant, classy and beautiful, that's the Alex we like to see.