A man has been handed over to the police for allegedly luring a little boy with N500 to bring his mom's underwear.
The incident happened around 8:04am on Saturday, in Ondo. It was gathered that the little boy informed his mom about the man's offer and some boys were mobilized to nab him.
The suspect was, thereafter, mercilessly beaten before being handed over to the police.
Meanwhile, an infamous thief has been apprehended after stealing in the eastern part of Nigeria.
It was gathered that the suspect was traced to his home after a theft where shocking items were found in his possession during a search and Panties, bras, cream, ear rings, soap, cash among other items were recovered from his house.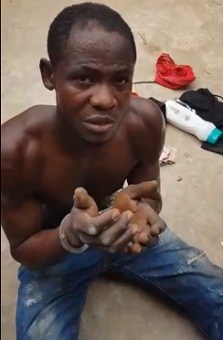 When quizzed by those who nabbed him why he stole the panties and bras in particular, the suspect said he doesn't know why he stole them.
He said he went to a house to steal only money but didn't know the spirit that entered into him which made him to steal the underwear.
The serial thief said the panties and bras are of no use to him but decided to keep them in his house.