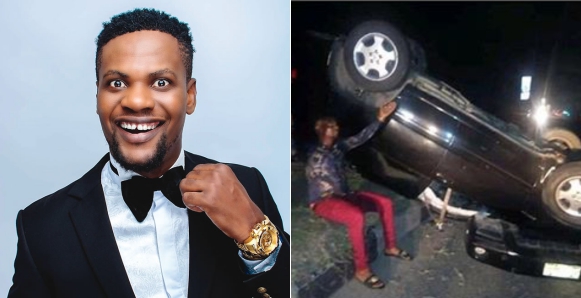 Popular Nigerian comedian, MC Shakara, has walked out unscathed after his involvement in a ghastly accident.
According to an eyewitness, the accident occurred around 3a.m this morning, in Lagos.
A visibly shaken Shakara was later pictured sitting down beside the car that summersaulted several times and almost claimed his life.
MC Shakara took to his instagram page to thank God for his protection and his friends and family for all the love they are sending his way.
He wrote,
"Thank you Lord 🙏
And thanks to everyone one that have been reaching out to me, and special thanks to the good samaritans from last night,
May God continue to protect us!
Jesus you love me too mch ohhh, 🙏
The car is a complete write-of but yet I came out untouched,
This can only be God🙏🙏🙏🙏
According to him, while he was driving along Agungi road in Lagos, a black horse was crossing the road and while he was trying to avoid hitting the stray horse, he lost control of his car and it somersaulted.
Watch video below.