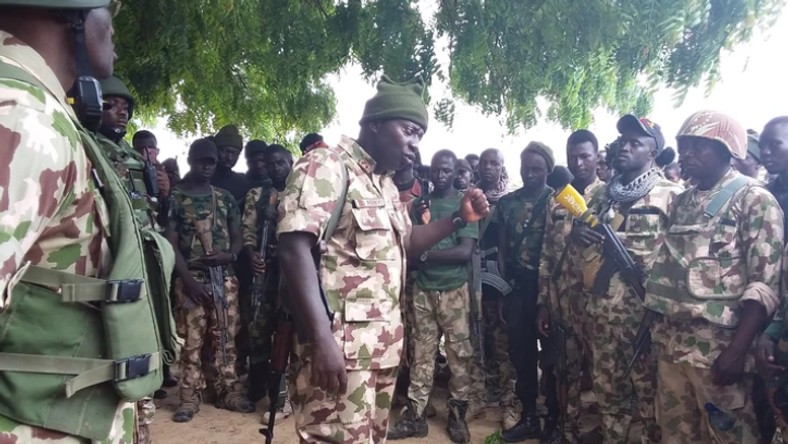 The Theatre Commander of Operation Lafiya Dole, Major-General Olusegun Adeniyi, has called on troops to effectively put an end to the insurgency of the terrorist group, Boko Haram, in the northeast region.
He said this on Sunday, August 25, 2019, while addressing troops in Gubio and Magumeri, Borno State where Boko Haram recently attacked.
The terrorists burnt residential homes, schools, offices, and looted food items. They also killed a member of the Civilian Joint Task Force (CJTF). Many media reports had alleged that the attack was successful because troops had been withdrawn from the communities. However, in a statement by the Army last week, it claimed the terrorists had actually targeted troops who eventually repelled the attack.
"Consequently, due to fierce exchange of fire, the terrorists were forced to withdraw in disarray from the town resulting in damages on buildings and property along their route of withdrawal," the statement read.
While speaking on Sunday, Maj.-Gen. Adeniyi told troops to be more committed about putting an end to the insurgency that kicked off ten years ago.
"If we don't stop Boko Haram logistics, this war will never finish. Please, let us finish this war and go home.
"If you have been unserious, get serious; if you are serious, get more serious. You are in war today, you will be at peace in another unit tomorrow. Above all, we must make up our minds that we are ending this war," he said.
Maj.-Gen. Adeniyi also appealed to troops to be more cooperative with fellow security agencies, especially the Nigeria Police Force and CJTF, to put an end to Boko Haram's insurgency.
Since Boko Haram's insurgency escalated in 2009, the terrorist group has killed around 30,000 people and displaced millions in the northeast region, with its operations also extending to border countries like
Cameroon
,
Chad
and
Niger
.
Even though the powers of the
Abubakar Shekau
-led main faction of Boko Haram has been on the wane in the past couple of years, another faction, the
Islamic State West Africa Province (ISWAP)
, has grown in influence and carried out several brutal attacks.
However, despite ISWAP's attacks on military troops and bases over the past year, the
President Muhammadu Buhari
-led government has insisted that the group has been degraded, and limited to only attacking "soft targets".