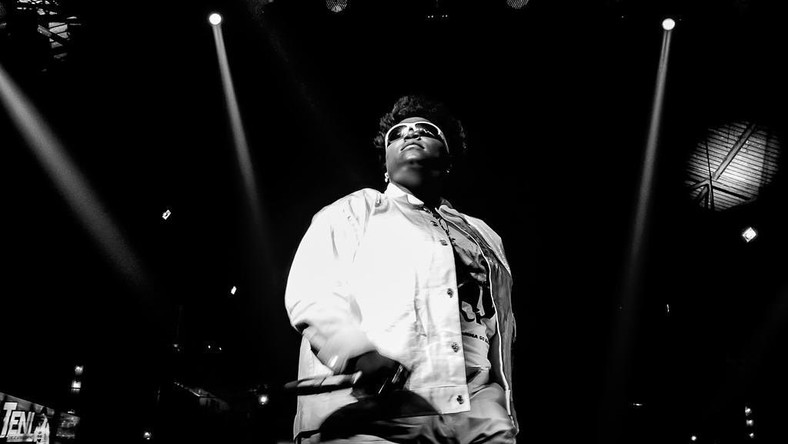 Teni has been on 'feature-killing' run that numbers more than 10 songs. We should also talk about that.
When people talk about Teni The Entertainer otherwise known as Teni Makanaki in 2019, the conversation will be about how mixed it has been for her, music-wise.
They will be totally right. While her stock continues to rise with good tour dates and major media features in the US and the UK, her singles have not been as successful as they could have been. This is made more apparent by her incredible 2018 run.
However, amidst all the critique and the truth behind them, something has sailed under the radar;
Teni
has consistently killed features for fun through 2019. In fact, on any song which she has featured, she has been a blessing.
The beat doesn't matter, neither does the genre. For
King Perryy's
'Murder'
and
Trazyx's
'Man No Be God
,'
she killed dancehall beats which many wouldn't have seen coming from 100 miles.
This thought crossed this writer's mind after he heard
'Ololo'
by
Stonebwoy
and '
Hit'
by producer,
Krizbeatz
featuring
Tekno
- two songs that featured
Teni.
We might argue that it is much easier to be excellent as a featured artist than on your own song, and that will be true. We could also argue that features are not as important singles as a lead act, and that will also be true.
However, a lot of top acts are terrible on features. If you are constantly excellent on features, it means you have something worth noting.
Through 2019, only
Falz
and
Zlatan
have been as consistently excellent as Teni on features. Granted, the songs on which Teni features are not as mainstream as those that have featured Falz and Zlatan, but excellence is excellence.
Either Teni is giving
BOJ
's '
Obe
' a facelift or rapping on '
Daz How Star Do'
by
Skiibii,
the level is the same. Recently, she literally took made
'Ka Anyi Na Ayo'
the best song on
Phyno
's album, Deal With It.
Asides that, she has also proven a blessing to
Chuvano
and
Boomboxx.
It's no fluke when you can trace it all and find the same result.
Only Teni can answer that. To be honest, 2019 has been quite shocking for fans. On one part, it seems a case of Teni managing her first year as a genuine star touring the world and managing a big schedule as these things impact her energy and time to truly make her music. This happens to a lot of people who then find ways to stabilize eventually.
On the other part, it could also be Teni enjoying her stardom and losing focus/touch on/with what got here the stardom in the first place.
On the third part, it could also be Teni panicking and second-guessing herself after one or two bad decisions, leading to rushed or more questionable decisions.
Regardless of what it is, we should give her time. People need time to adjust and Teni might be one of those acts. The topic of fear or panic should also not impact her. We are fans, we will react to what we react to. That's who we are; evil dictators of taste.
All Teni needs do is find a balance with a song she likes and a song that the current soundscape can relate to. She will be just fine and back on her perch in no time.
That said, she should be careful
Excessive - excellence on - features can take a toll on your act. You can ask
T-Pain, Timaya, Terry G
and a few others what features did to their individual momentum. Teni needs to watch how she drops gems on features. It's not a bad thing to deny requests for features.
That said, the features are helping her keep pace with we, the listeners who can be very fickle with our short attention spans.