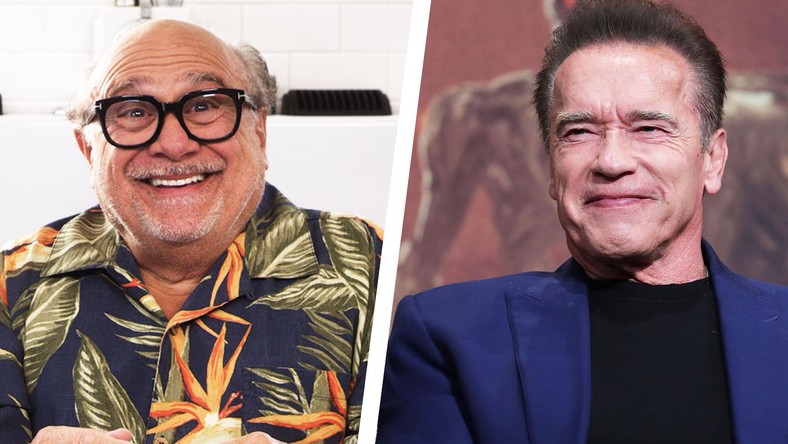 It's been 31 years since the release of Twins, but Danny DeVito still has the sort of brotherly rivalry and chemistry with Arnold Schwartzenegger that can only come naturally. "He can't do anything," the Always Sunny star says in the latest edition of Men's Health's Disgustingly Healthy. "Arnold looks like he looks, and that's all he does. He can't open a can of beans. What was the question again?"
When DeVito is quickly reminded of the questionWhat can you do better than Arnold?he's got another great answer: "Go off my diet." Why is Danny answering questions? Well, for Disgustingly Healthy, featured stars have two options: eat some of the wildest, most out there health foods we could find in the world, or answer a question that might be even tougher. With their show It's Always Sunny In Philadelphia still gut bustlingly funny in the midst of its record-breaking 14th season, Kaitlin Olsen and Mr. DeVito are willing to take on the challenge.
Sure, along the road we'll find Kangaroo Jerky, Rattlesnake, Helix Snails, and even a Tarantula, but one of the biggest reactions comes when Kaitlin is faced with eating Louisiana Style Cajun Alligator. Obviously, that's a no, so she'll face the question.
That questionprobably not one for the kidscenters on Finding Dory, in which Kaitlin voiced a friendly hammerhead shark. If you had to eat a sashimi version of a Finding Dory character, who would be the pick?
Kaitlin, who plays Dee, the only female in the Always Sunny gang, has a quick and thorough answer. "So, I'd just cut the character open and eat them? I've got no problem with that," she says. "I would eat Dory. I mean, it's a little fish. I would slice her up, and I would eat her immediately. It would be fresh, and it would be great, and I don't think I would feel bad about it."
Danny, who later answers his own kid movie question about My Little Pony, is at least somewhat taken aback. "Brutal," he says.
But most importantly, the questions are always going to come back to that core Always Sunny gang. As you likely know, Kaitlin and Rob McElhenney (who plays Mac and is also the creator of Always Sunny) are married in real life. And since this group has been together for 14 yearswell, 13 for Danny, who came aboard in the show's second seasonit begs some interesting questions. Obvious questions, really. Natural questions that anyone in such close proximity for such a long time would of course ask: if Kaitlin and Rob opener up their marriage to the entire cast, who would they most want to join?
"All three," Kaitlin says. "We've asked them, multiple times."
Danny is not into it. "Nope," he says. "Especially not if they want to take pictures!"
He goes on for a little bit about how obsessed with social media and sharing they all are, and Kaitlin notices. So, she asks, it's not the act he's not into. But something else.
"I don't want people to know I did it!" he shouts, in a very Frank Reynolds manner.
Something about this pairing, well, the chemistry just feels right. Even if Danny doesn't quite want to join Kaitlin and Rob's partywell, at least not yet.