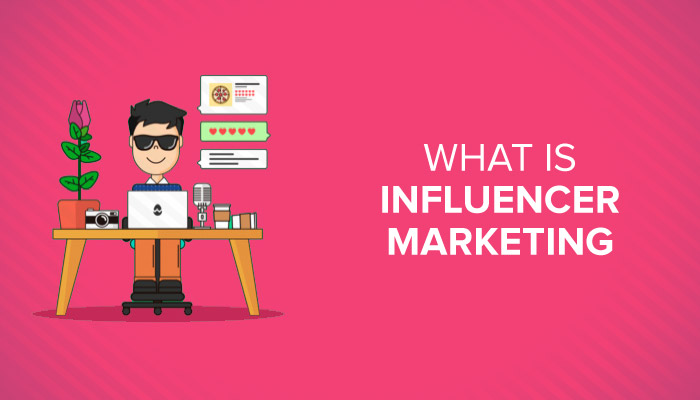 If you wanted to try the local restaurant with a big sign that claims, "The best food in town!" but hear from someone you know that the food and service are just okay – do you still go?

Your decision has already been influenced before you even see the restaurant.

That's the power of influencer marketing – real people sharing real recommendations and feedback to influence those who trust them.

With the expansion of social media, newer ways of marketing have emerged. With more and more people turning to social media to make buying decisions, brands and businesses have another chance to get noticed, market their products, and communicate with existing, or new customers.

However, with a change in how customers find new brands, also comes a change in customer behavior. Customers today prefer "real" over "too-good-to-be-true" marketing campaigns.

That's where influencer marketing comes in, and that's why it works.
Overtime marketing has shifted from traditional marketing to online marketing and now to even simpler forms like influencer marketing -Volqx


Now let's get to the interesting part..
What is influencer marketing?
Thanks to Volqx who compiled a thread of what you need to know about being an influencer.
Influencer marketing is a subset of online marketing which is a subset of digital marketing .

What traditional form of marketing is influencer marketing replacing ?

Influencer marketing has shifted attention of brands from paid advertising both online & offline .
Paid ads (online) tv, radio (offline)

What brands patronise influencer marketing ?

Not every brand should

... not every brand should patronise influencer marketing .

Influencer marketing is marketing that directly targets an audience , it's a less intense form of marketing but takes the message directly to the audience, the audience sees it hourly , daily , weekly etc

Influencer marketing is mostly effective for awareness & publicity , hard sell , call to action , product / brand introduction .

Any brand that needs people to hit buttons quickly , that needs you to see what they are offering , that needs a quick sell , that needs traffic .

Let's get to the interesting part (what most are waiting for I know 😏)
Who does the job of " influencer marketing " The job title is called " influencer marketer " or " influencer " .
There's a general misconception about who an influencer is because the title is shared .
The title " influencer " is shared between society impactors and online marketers .
An influencer in its full sense is anyone who is able to motion you into an action , not every influencer is involved in marketing .
On the list we have ...
The advocates , the religious heads, Medical advocates , Celebrities, photographers , thought leaders , Journalists , Tv stars etc
The listed above aren't interested in marketing , they are online to impact peoples lives , they have audience offline and online .
E.g
@segalink
Other examples are @DrJoeAbah @Symply_Tacha @davido @Fosudo
These are influencers but not into "
influencer Marketing
"
I hope you understand so far .
Influencers into influencers marketing are categorised under 4 .
- The mega , macro , micro & nano
Now pay attention...
A mega influencer has just one difference with a macro influencer
A mega influencer or can be called a loyalist, has become a social media sensation all around, grown beyond one or more social media platform, has built a strong fan base that remain loyal regardless of anything.
A macro influencer on the other hand just has a very large audience (traffic count) mostly just on one platform , has over 200k followers , also loved but not as much, they live off their traffic , not audience loyalty .
The Micro follows , same with macro only with less traffic
The nano influencer is at the lowest of the table , mostly used for referrals , used to push conversations, used for boosting , they are the sales men of influencer marketing , they don't create conversions or conversations but they play a key part in making it work .
Let's bring it down to Nigeria .
Influencer Marketing in Nigeria is a little contrast from the actual practice .
Originally an influencer is field focused , e.g Fashion , Music , Tech , Travel , Sports , Education , Health , Food etc .
They have a niche, build content & conversations around it .
A fashion influencer introduces new releases , styles , new patterns , breaks down outfits in details , carries out critics (fashion police) ,attends events and reports findings on fashion .
Same with others listed
In Nigeria as earlier stated it's a whole different ball game , the only influencers in Nigeria focused on niche marketing are bloggers & YouTubers (they aren't exactly into influencer marketing) but can market a product .
In Nigeria influencer marketing is traffic focused .
Influencer marketing in Nigeria has a lot of focus on active conversion rather than quality conversion and this is enabled by most small brands wanting to get into the market and quickly get their name around .
This is why anyone with a big account is tagged " influencer"
In the real sense they are just "big accounts" , although overtime some nigerian macro influencers have began developing actual content . The likes of
@aproko_doctor
@Queenpreshiii
etc .
Most macro influencers in Nigeria thrive off gossip , news , online drama & banter .
Now let's leave all that boring stuff and come down to what you actually want to hear .
How much can an influencer earn ?
I'll tell you , but first , for you to earn well in Nigeria as an influencer you must be good in - conversations, writing or have excellent traffic .
You must have a brand friendly page , free of strong controversies , low public hate , never be caught expressing targeted hate or cyber bullying and have excellent referrals .
Loyal brands are focused on results and not just your traffic not a 100k account without conversion .
Influencer jobs are called gigs or campaigns , in true sense anyone can get on a campaign or a gig but there are levels to it . You could earn as High as 500k for one job and as low as 50k for the same job , it's not about your traffic now, it's about your referrals / image .
As an influencer do you have to be involved a lot on social media before you earn high ? No .
Influencers like
@lazywritaNG
@MaziIbe_
probably top on the earning list but do the barest minimum on social media , they leverage off their image & excellent conversations.
Now let's sort you out ...
How to become an influencer in Nigeria ?
- At this point I believe you have a twitter / Instagram account .
- Rebrand & position yourself as an influencer , define your interests (where/what you want to focus on)
- Don't be focused on getting gigs
- Focus on building a reputation through your page , it's a slow process but pays off .
- Join online trending conversations using the keywords the trending , define your opinion excellenty & intelligently .
- Only Join conversations that you are interested in , don't join all .
Start watching your traffic , monitor and see if keyword engagement practice is working out well , if it isn't , watch your writing skills , attempt to hit points at the first paragraph, be yourself , proof read , have a clean bio (simple and specific) .
You can decide to get provocative in writing , steer up your audience into wanting to engage , don't always follow the park , when you follow the park you end up saying what everyone has said , how then do you get noticed ?
These are tricks & methods that help you stand out .
The moment you start gaining recognition, start putting yourself out there , you can begin by carrying out free adverts for small brands online , send them emails , write for them , express your view on their branding or product offering , don't be focused on the money ...
When you start asserting yourself and conversions start coming in , you are 1 step into your earning , other brands start noticing your TL as "someone interested in influencer marketing" that "oh this person does adverts"
Let's Recap .
- Build relevance
- "" value
- "" Traffic
This is how you get the biggest jobs , the biggest gigs , the biggest campaigns, now network yourself with the top influencers ( you don't have to be friends , just assert yourself to them as someone interested in marketing , let them know you can work for free ) they'll try you
Once they try you and see results , they'll keep you , they know you are a value added team member .
Design yourself a rate card (before you do this , attempt ask an influencer for guide) .
When you are sure you have mastered the above (especially your writing skill)
Start writing to brands , setup meetings and propose what you can do for them online (this is the highest of influencing & mostly done by the mega influencers) , takes a lot for a brand to trust you , but you can try .
Oh before I forget ,
Pick a writing style & stick to it .
Influencer marketing isn't an easy job , takes a lot of time , you might have days you need to be on 5 jobs at a time , lol you have just one brain , so yh you need dedication, practice scheduling , don't take every job especially when you know you don't have the time .
Ok I think this is enough for 101...

I hope you learnt something, so yh our it to practice and you might be the next big thing , you can earn from home and take care of your family .
But first you need to put in the work and not follow the crowd , don't be lazy too . It's a 9-5
Compiled by
Volqx
.
IF YOU HAVE ANY QUESTION, OR CONTRIBUTION, FEEL FREE TO DROP IT IN THE COMMENT SECTION ↓↓