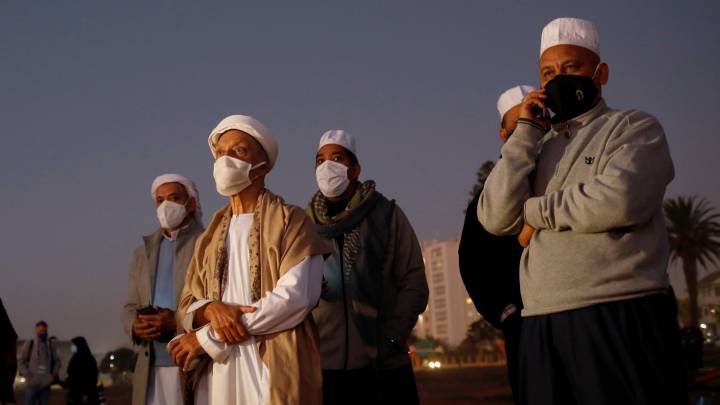 Coronavirus live Africa: latest Covid-19 news - 25 May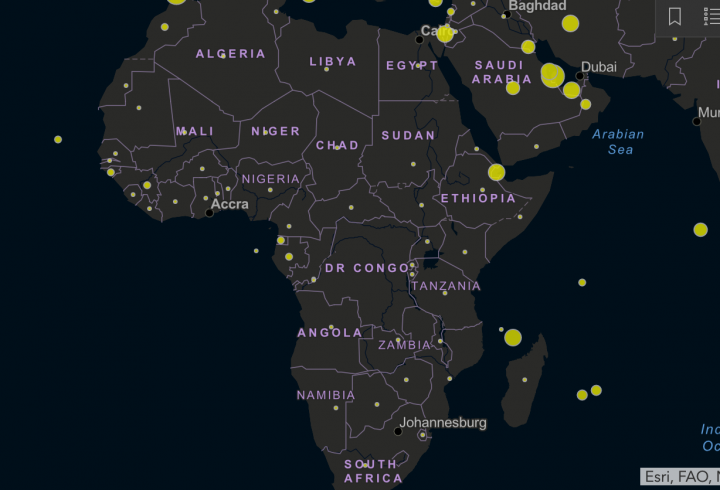 Africa Covid-19 update: 15:00 WAT on Monday 25 May (16:00 CEST)
According to the latest figures published by
Johns Hopkins University,
5,435,789 cases have been detected worldwide, with 345,467 deaths and 2,182,202 people now recovered.
Nigeria: 7,839 cases / 226 deaths
South Africa: 22,583 cases / 429 deaths
Ghana: 6,808 cases / 32 deaths
Uganda: 212 cases / 0 deaths (no data currently available)
Elba to host fundraising concert
Actor Idris Elba is to host a concert featuring a number of Africa stars tonight, to raise money to feed children on the continent who are not getting the reliable daily meal they are usually provided with at school.

BBC News Africa✔@BBCAfrica


Actor @idriselba is hosting a concert on Monday night featuring @angeliquekidjo, @burnaboy, @davido and other African stars https://bbc.in/3d0Cy01

1102:12 PM - May 25, 2020Twitter Ads info and privacy40 people are talking about this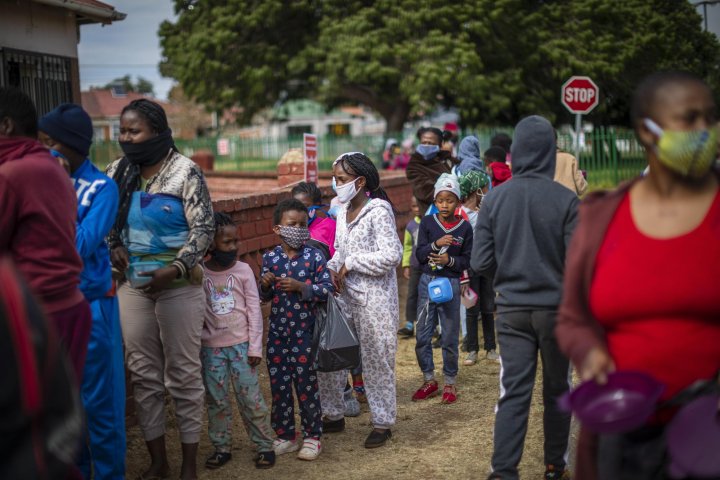 South Africa Muslims skip Eid celebrations to hand out food
Children wait for food during a food handout in Johannesburg, South Africa, on day 59 of the national lockdown as a result of the coronavirus. The local Muslim community spent the time they would have shared with family celebrating Eid al-Fitr by feeding hundreds who are facing food insecurity due to the economic effects of the lockdown - one of the main issues facing the country since the start of lockdown. (Photo by: EFE/EPA/KIM LUDBROOK)
WHO releases latest figures: just under 111,000 cases in Africa
The World Health Organization (WHO) has released its latest country-by-country breakdown of the total confirmed cases and deaths in Africa:
WHO African Region
✔@WHOAFRO
Over 110,900 confirmed
#COVID19
cases on the African continent - with more than 44,500 recoveries & 3,300 deaths. View country figures & more with the WHO African Region COVID-19 Dashboard:
https://arcg.is/XvuSX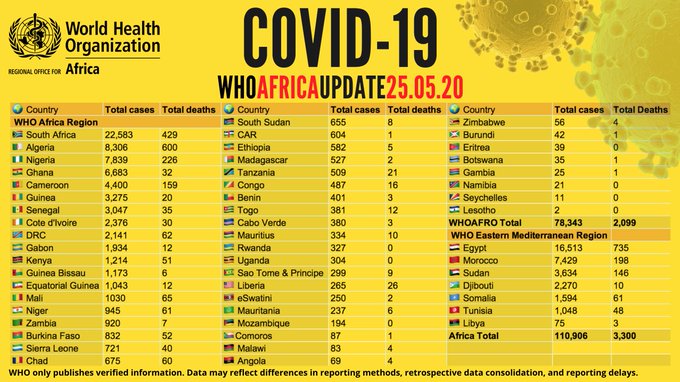 119
11:52 AM - May 25, 2020
Twitter Ads info and privacy

107 people are talking about this
Gym closures force Kenyan sports champion to train by roadside
Kenya taekwondo champion Vincent Ochieng usually trains in school sports halls in Kisumu, but now he is working out with hundreds of other people on the gritty surface of the western city's biggest highway flyover.
The government closed sports facilities in March as part of measures to contain the spread of the coronavirus, leaving athletes like Ochieng, who was looking forward to representing Kenya at the World Taekwondo Championships in China in October, with nowhere to train.
"We are planning to represent the country in October ... in China Taekwondo World Cup, but unfortunately this Covid-19 is with us and we don't know when it's going to end. We just hope it ends before the tournament time," Ochieng told Reuters as he trained with other sportsmen and women.
Ochieng, a six-times national champion who trains with his daughter, has represented Kenya in tournaments in South Korea, Rwanda, Ethiopia and Sudan.
(Text: Reuters)
Zambia minister self-isolating after positive test
Dora Siliya, Zambia's information minister, this weekend revealed that she has gone into self-isolation after testing positive for the coronavirus. "Even after taking all precautions ... yesterday I did test positive for Covid-19," Siliya said on Saturday.
Reuters Africa
✔@ReutersAfrica
Zambia's information minister tests positive for coronavirus
https://af.reuters.com/article/topNews/idAFKBN23009L-OZATP …
Zambia's information minister tests positive for coronavirus

Zambia's information minister Dora Siliya said on Saturday she had tested positive for the coronavirus but was asymptomatic and had gone into self-isolation.af.reuters.com
23
11:05 AM - May 25, 2020
Twitter Ads info and privacy

15 people are talking about this
Alcohol ban to be lifted in South Africa
The president of South Africa, Cyril Ramaphosa, has said that a ban on alcohol sales will be lifted when the country moves from level four to level three of its five-phase coronavirus lockdown.
AFP

[email protected]
South Africa is to lift a controversial ban on the sale of alcohol for home consumption when the country moves into level 3 of a five-tier coronavirus lockdown next month.
http://u.afp.com/3Q68


Coronavirus: South Africa to lift alcohol sales ban from June

Alcohol ban meant to prevent spike in violence, reduce pressure on emergency wardsgulfnews.com
2
9:43 AM - May 25, 2020
Twitter Ads info and privacy

See AFP Africa's other Tweets
Sudan government "exposed" by coronavirus
Writing for the BBC, the journalist Zeinab Mohammed Salih says the new Sudanese government has "failed to provide leadership" during the coronavirus pandemic, with cases now over the 2,000 mark in the country - the highest in East Africa.
BBC News Africa✔@BBCAfrica


Coronavirus in Sudan exposes new leaders https://bbc.in/2ZKhR4L

How coronavirus exposed Sudan's new leaders
Some medics have refused to work and elderly people have been dying, writes Zeinab Mohammed Salih.bbc.com521:31 AM - May 25, 2020Twitter Ads info and privacy22 people are talking about this

The fall-out from the coronavirus could have a bigger impact on people's lives than the actual virus itself with Africa in a particularly vulnerable position.

TUCI
✔@TUCIOfficial
The lives & livelihoods of hundreds of millions Africans are at stake not just due to
#COVID19
, but mostly due to the economic impacts of the response.
-- UNHumanRights chief mbachelet on mitigating the impacts of the
#coronavirus
crisis in Africa. …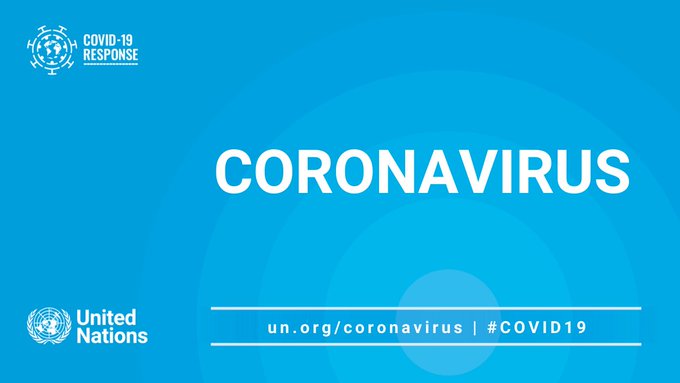 8:28 AM - May 25, 2020
Twitter Ads info and privacy

See TUCI's other Tweets
Nigeria's coronavirus cases broken down by state.

APO Group English
✔@APO_source
Coronavirus - Nigeria: A breakdown of cases by state # @NCDCgov @Chikwe_I #Coronavirus #Nigeria https://bit.ly/3bWAmFv

Coronavirus - Nigeria: A breakdown of cases by stateafrica-newsroom.com
7:26 AM - May 25, 2020Twitter Ads info and privacySee APO Group English's other Tweets



A look at how Sudan's new leaders have been exposed
due to coronavirus by the BBC. Sudanese migrants returning to the country were put in quarantine but left early and might have been the reason for the spread. Inflation has reached 100% and neither the Prime Minister nor the Minister for Finance has appeared publicly to calm nerves or sympathise with millions of struggling families.
South African president says lockdown to ease from June 1
President Cyril Ramaphosa announced on Sunday a further easing of South Africa's coronavirus lockdown from June 1, allowing the vast majority of the economy to return to full capacity.
Africa's most industrialised economy has been largely shut down since late March, when the government enforced severe restrictions to stem the spread of the novel coronavirus which has so far infected 22,583 people and killed 429.
Ramaphosa, who has been under pressure from rival political parties and a variety of industries to ease the restrictions, said following broad consultations the cabinet had decided to move the country to "level three" of its five-level lockdown system.
"This will result in the opening up of the economy and the removal of a number of restrictions on the movement of people while significantly expanding... our public health interventions," he said in a televised address