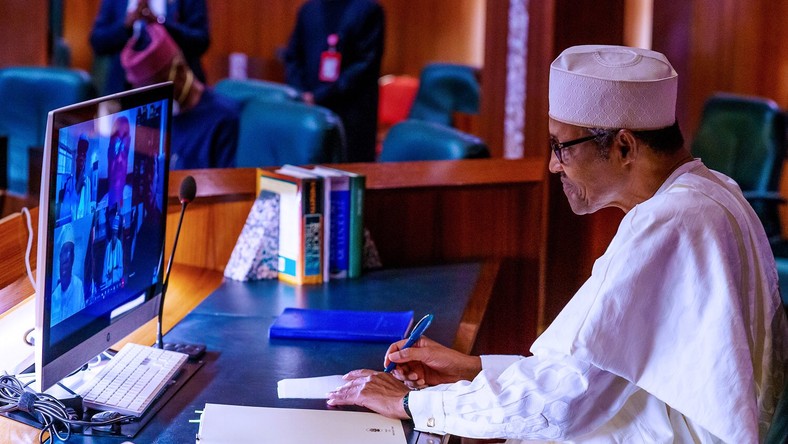 On May 4, Lagos, Abuja and Ogun state entered a new phase of COVID-19 containment called 'gradual easing of lockdown' as declared by President Muhammadu Buhari.
These two states and the Federal Capital Territory (FCT) of Abuja then joined the rest of the country to observe overnight curfews.
A couple of Nigerians are still confused about where we are now, seeing as Monday, May 18, made it two weeks since the curfew regime commenced.
The confusion grew after Aso Rock announced that it had no plans to make the president deliver yet another pre-recorded COVID-19 speech after three of those in the last couple of months.
Here's where we now stand as a country in this coronavirus era:
The gradual reopening of the Nigerian economy would span six weeks, broken into three tranches of two weeks each.
The first tranche of that reopening began on May 4 and ended on May 18.
That means in another two weeks, the Nigeria Center for Disease Control (NCDC) and the Presidential Task Force (PTF) on COVID-19 would advise the president on what next steps to take.
Right now, the curfew of 8pm to 6am remains in place across Nigeria and if you live in Lagos, the guidelines issued by Governor Babajide Sanwo-Olu are still to be strictly adhered to.
Places of religious worship like churches and mosques remain closed and the airspace is still shut. No commercial flights into or out of Nigeria and no domestic commercial flights either.
Interstate travel is still prohibited.
Buhari has also ordered that precision lockdowns be implemented in areas recording rapid increases of coronavirus cases in the country.
That means going forward, cities like Lagos, Kano, Abuja may have their own COVID-19 containment plans while the rest of the country is allowed to go back to work.
So, because you asked, we are now in the era called 'Precision Lockdown.' In this phase, only coronavirus hot-spots will be targeted for special plans and palliatives.
According to Boss Mustapha who is Chairman of Nigeria's PTF for COVID-19, "Nigeria is not yet ready for full opening of the economy and tough decisions have to be taken for the good of the greater majority."
The phased reopening of the Nigerian economy would go ahead more slowly than planned.
In another two weeks--that's on June 1 to be precise--another tranche of the six weeks lockdown phase commences and this current tranche (which began on May 18) would have been reviewed and newer guidelines issued. And that would be the last tranche of the 'easing of lockdown phase' actually.
Depending on the COVID-19 numbers on June 1, the president could continue to gradually ease restrictions or impose a new lockdown regime.