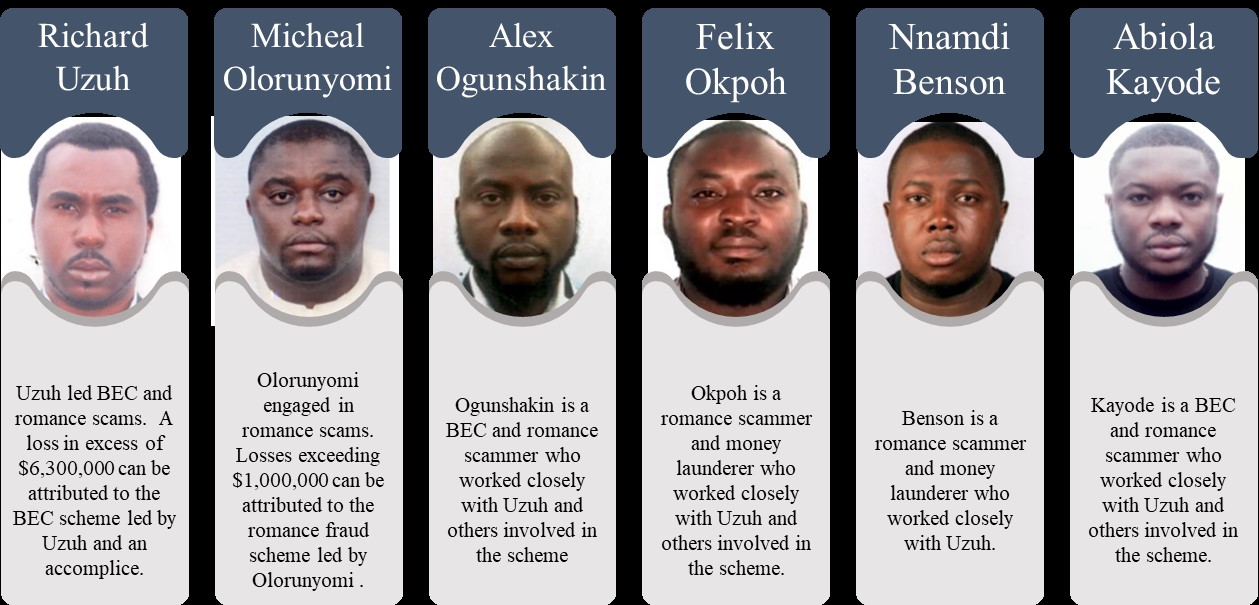 The United States authorities on Tuesday announced that it has uncovered a six million online scam deal involving six Nigerians.
US Department of State disclosed this in a statement signed by the Secretary of State Michael Pompeo.
"Today, in coordination with the U.S. Department of Justice, the Department of the Treasury's Office of Foreign Assets Control took action against six Nigerian nationals, pursuant to Executive Order 13694 as amended," US Justice Department said.
DoJ said the Nigerians were indicted "for conducting an elaborate online scheme to steal more than $6 million from victims across the United States."
The six Nigerians, DoJ disclosed, manipulated their victims to gain access to their sensitive information and financial resources.
"The U.S. will not tolerate such gross misuse of technology," DoJ said.
The names of these 6 Nigerians who were disclosed by the office of Foreign Assets Control and are alleged to have committed those cyber-crimes include, Nnamdi Orson, Kayode Biola Ayorinde, Ogunshakin Alex Afolabi, Okpoh Felix Osilama, Olorunyomi Michael and Uzuh Richard Izuchukwu.
The US authorities vowed to use all of the tools at its disposal to defend the American people and businesses from malign actors that seek to target them, including cyber-enabled actors who prey on vulnerable Americans and businesses.
DoJ, however, believes that the six Nigerians and other cyber fraudsters were negatively utilising the opportunities provided by technology through the internet.
"Technological advancements that provide greater interconnectivity also offer greater opportunity for exploitation by malicious actors who target at-risk Americans," DoJ said.
The United States Secret Service said in a memo in May that a Nigerian-based group was involved in orchestrating a COVID-19-related fraud targeting multiple American states has been traced back to Nigeria, an internal US Secret Service memo said.
The memo, seen by The Guardian, was reportedly sent to Secret Service's field offices across the US on Thursday, May 14.
The Secret Service said the fraudsters are exploring the COVID-19 pandemic to commit massive fraud against by targeting unemployment insurance programmes.
"The United States Secret Service has received reporting of a well-organized Nigerian fraud ring exploiting the COVID-19 crisis to commit large-scale fraud against state unemployment insurance programs," the memo said.
A California-based cybersecurity firm Agari said on Tuesday, May 19, that "some if not all" of those who committed the fraud are part of a Nigerian fraud group Scattered Canary.
A Nigerian social media celebrity Ramon Abbas, also known as Hushpuppi, was recently arrested in Dubai by Interpol for alleged cyber fraud. Media reports said American officials were pushing for his extradition to the United States because the majority of those he defrauded are American citizens.